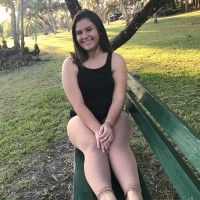 Ms. Bella - All Genres
Ms. Bella has been with TCDC since 2007 and a prior student of Ms. Toni for over 14 years. She graduated in 2019 from Fort Pierce Central with her A.A. Degree and is presently completing her B.A. Degree majoring in Elementary Education and minoring in Dance at Indian River State College. At TCDC she teaches Combo Tap, Tap 1/2, Tap 3/4, as well as Musical Theatre, Jazz and Contemporary. Ms. Bella is also a Summer Program Teacher and Faculty Substitute.

During her years of training, she has trained in ballet, contemporary, jazz, lyrical, jumps and turns, tap, pointe, acrobatics, PBT, modern, and yoga. Ms. Bella has won numerous Regional, State, National and World Titles both with her teams as well as a soloist. We are blessed to have her energy, enthusiasm and loyalty to our studio family!