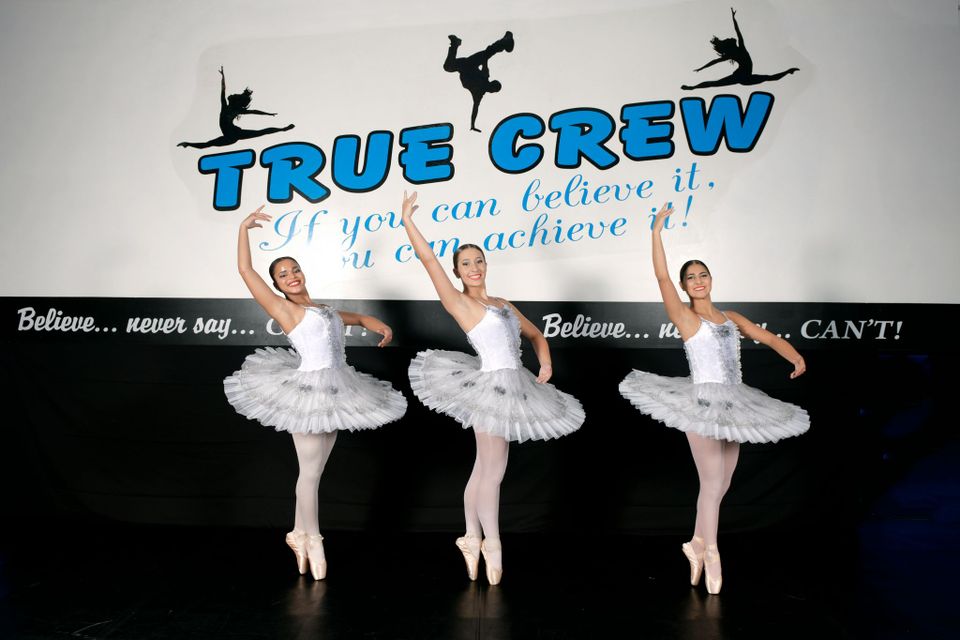 BALLET
We initially place students according to age; however, the instructor evaluates and determines the appropriate placement for each and every student. Every child's ability is different and in turn so is their progression. Some students will master skills more quickly than others. We ask that parents and students respect the instructor's placement as it is in the best interest of the child. It is important to remember that Ballet requires intense concentration, discipline and strength to progress properly.
Ballet 1 & 2 is the first separate class of ballet of our levels in our upper level Ballet program. The class is 45 minutes and is for ages 8 through 11. This class meets once a week.

Students at these levels should be familiar with early Ballet terminology and technique, although this is an appropriate first class for students who have not been previously introduced to Ballet. In this class, students begin to learn to isolate their muscles and build core strength and muscle memory to advance to the next level of ballet training.

Students will focus on learning how to balance their bodies without needing support. To help promote the development of balance without support, there will be barre work in this class.

It is common for students to stay in these levels for 1-2 years. This is to ensure that they have mastered the necessary skills to advance to the next level.

Ballet 3, 4 & 5 classes are designed for advanced students; through early college. Students typically remain in their levels for a minimum of two years. It is important to remember that Ballet requires intense concentration, discipline and strength to progress properly.

Students begin class with barre work which is followed by center and across the floor instruction. They are always learning new terminology and technique, but it is the constant repetition and fine tuning of these that will result in the mastery of the skills.

We stress that our instructors focus on the many methods of Ballet. It is important that students know the differences between the most common methods so that they are able to adapt to any teaching style. The most common methods taught include: Vaganova (The Russian Ballet), Cecchetti (The Italian Ballet), Balanchine (American School of Ballet), and R.A.D. (The Royal Academy of Dance). We believe that students should be well versed in all of these methods as focusing on one method would limit them as they continue in their dance training.

Students expressing an interest in Pointe will be able to begin with permission from the instructor. Students must have the appropriate strength in the feet and ankles. In addition to the Pointe class, the students must be enrolled in a minimum of two upper level Ballet classes per week including a separate Ballet technique.
Pointe
is a form of ballet presented on the tips of the toes, made possible by specialized pointe shoes. There are different varieties of ballet en pointe, but for the most part they focus on grace and specific technique. Both men and women are capable of learning to dance en pointe, but it is commonly done only by women.

There are different styles for pointe shoes, also commonly referred to as toe shoes or blocked shoes, and different dancers find that one style or another may fit better.

Dancers must have sufficient strength in the feet, ankle, leg, knee, and abdomen, as well as strong technical skills, before beginning pointe work. This work can take anywhere from six months to more than three years. Students must be at least thirteen years of age before going en pointe. This is because bones and growth plates in the feet are not yet fully hardened and developed prior to this age, and they can be injured very badly by pointe work, even if the student is otherwise strong and skillful. Attempting to dance en pointe before the feet and toes are fully grown can cause career-ending damage that will prevent dancing en pointe for a lifetime.